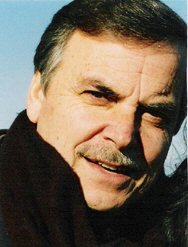 Onésimo Teotónio Almeida: Born on São Miguel in the Azores, Onésimo graduated from Lisbon's Portuguese Catholic University and earned his M.A. and Ph.D. in Philosophy from Brown University, where he has been teaching Portuguese Cultural and Intellectual History since 1975. He has written short stories, plays, and crónicas, and is the author and editor of numerous books; in 1987 he won the Roberto de Mesquita essay prize. He is a prolific academic author as well as a frequent contributor to the Portuguese press in the US and Canada. Onésimo founded and directs Gávea-Brown Publications, founded and is co-editor of the journal Gávea-Brown, and is co-editor of the recently-created e-Journal of Portuguese History (a joint-venture between Brown University and the University of Porto). He is active on the editorial board of several professional journals, and in various professional organizations. He was elected to the Academia Internacional de Cultura Portuguesa, Lisbon. Since 1979 he has hosted a bi-monthly socio-cultural talk show on the Portuguese Channel in Massachusetts, and from 2001 to 2003 hosted a weekly talk show on RTP-Açores, later broadcast worldwide by RTP-International. He has served on Rhode Island's Committee for the Humanities, of which he was Vice President from 1998 to 2000. He is a past President of the Cultural Association of the Atlantic Islands, and served as Vice President of the Associação Internacional de Lusitanistas. Onésimo was named an "Oficial da Ordem do Infante D. Henrique" by the President of Portugal, and was awarded the Insígnia Autonómica de Mérito Profissional by the Azorean government at its 2009 Azores Day ceremony in Toronto, Canada.
– Adapted from faculty profile, Brown University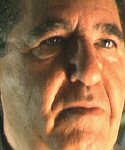 Abel Alves (1936-2002): "He was an emblem. There was no Lusophone conference in which he did not participate, nor activity related to the promotion of the Portuguese language to which, if he knew about it and it was necessary, he did not give his name, his word and the most that was asked of him. Abel Alves was raised in the Portuguese school of his home. Of the third generation, it had already been his grandparents who had emigrated to Southern California. Abel took pride in still speaking Portuguese with that Terceiran accent of his, as redolent of his island as if it had just popped out of an Altares bread oven the night before. And he made a production of exhibiting his grandchildren raised in the same school. Abel was devoted to the Luso associations of his parents, he defended bilingual education and struggled for the preservation of the traditions of his island, with the firmness and gentleness of one who demands by right but knows how to do it with democratic gestures inherited from bygone chivalrous gems. But about Abel Alves – Abe – everything has already been said, in a form that could have been put on his gravestone, in the poem by Vasco Pereira da Costa from his extraordinary My Californian Friends."
– Dr. Onésimo T. Almeida, Mundo Português, 2002 (adapted and translated by Katharine F. Baker)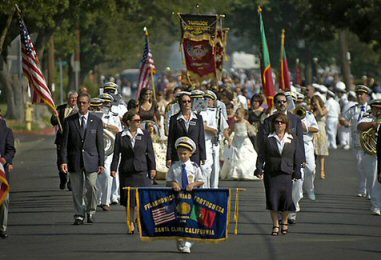 Feast of Our Lady of Miracles of Serreta, in Gustine, California: The population in Gustine triples the second week of September as crowds converge on the community for the OLM Celebration, as they have each year since 1936. A Portuguese tradition from the Azorean island of Terceira started in the mid 1700s, the Celebration was brought to the community of Gustine by a group of immigrants; Azorean immigrant Manuel B. Souza had experienced the local celebration during a visit to his home village on Terceira. The spirituality of the devotion and the gathering of the people gave him the desire to bring the tradition home to his fellow Azorean community in Gustine. Other festive customs were included in the festa: the Bodo de Leite (blessing of the cows), milk and sweet bread being shared; Cantoria ao Desafio (singers challenging each other in song); and bullfights and more dancing and singing. These were the highlights of the annual celebration of Our Lady of Miracles in Serreta, Terceira. When Souza returned from his visit, he suggested to friends that Gustine should have such a celebration. He commissioned a statue duplicating the one in Terceira, and a group of local men worked diligently to organize the first celebration and include the many traditional events just as in Terceira... A chance to meet and gather is another draw for who attend the week long event.
– Adapted from "OLM celebration reflects deep devotion, long-standing traditions of the Portuguese faithful," by Julie Rose. Mattos Newspapers, 28 Jun 2007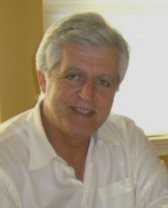 Tony Goulart: Born in São Caetano, Pico, Tony attended seminary in the Azores for nine years in his youth. In 1974 he immigrated to San Jose, California, where the rest of his immediate family was already residing. There he attended San Jose State University, then established a drywall firm with his brother José; later Tony earned both his Bachelor's and Master's degrees in Business Administration from the University of San Francisco. Tony has long been active in Luso-American organizations, and met Vasco Pereira da Costa two decades ago when Vasco (then a professor and supervisor of teacher training in Coimbra) was guest speaker at a conference Tony helped organize in California to promote Portuguese language education. In 1991 Tony founded the Portuguese Chamber of Commerce of California [Câmara de Comércio Portuguesa da Califórnia]. He is Vice-President of Portuguese Heritage Publications of California, in which capacity he coordinated the publication of their 2008 book Capelinhos: A Volcano of Synergies; he also coordinated research for PHPC's book The Holy Ghost Festas: A Historic Perspective of the Portuguese in California, as well as the publication of My Californian Friends: Poetry and the English translation of The Portuguese Presence in California by Dr. Eduardo Mayone Dias (September 2009). As a public speaker Tony has presented the talk The Portuguese-American Community in Northern California: Waves of Immigration from the Azores.
– Adapted from "Tony Goulart: Líder do maior projecto editorial das comunidades portuguesas da América." Mundo Português, Dec 2002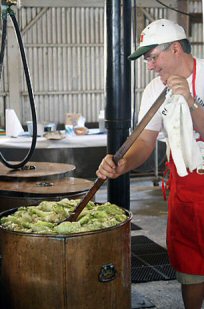 Holy Ghost Festival: Portuguese Holy Ghost Festas take place each year in late spring and summer in the Azores, and in Portuguese communities throughout North America and around the world. The tradition dates back to Queen Isabella of Portugal, and is a celebration of faith, of thanksgiving and tradition. The typical Festa may feed as many as 800 to 1200 people. Cooking food for that many people is a sight to behold. The preparations for the two meals start four days before the Festa at the local Portuguese Hall. The meat is raised, butchered and donated by local Portuguese farmers. The sopas and side dishes are prepared by hand. It is a staggering amount of chopped cabbage, sliced onions, diced eggs, deboning meat, peeled potatoes... It is a family affair, everyone helps out, the sense of community is abundant, the work involved doesn't seem like work because of the camaderie gained.
The typical Festa begins with a parade. Tradition has it that a little girl and young woman are both crowned Queen for the day. Different legends surround the origins of the Festa, although all pertain to Portugal's 13th-century Queen Isabel and a miracle involving feeding the poor; the festa is a feast of thanksgiving in her memory. A crown, symbolizing Queen Isabel, is carried in the parade by the last year's festa Queen. The procession begins at the Portuguese social hall and ends at the local Catholic Church. During the Mass the priest places the crown on those who want a special blessing. The crown is blessed and carried out by the new Queen. After the parade everyone returns to the Portuguese hall, where lunch is served. Long tables are set up for a traditional Portuguese meal. Sopas, a typical festa food, is made by simmering beef bones, with spices and cabbage for hours in a large copper pot. The beef is cooked in large pots with onions, garlic, bacon, red wine, and a selection of secret spices, cinnamon being one of them. Then when the broth is done it is poured over thick sliced French bread with mint, and served piping hot.
– Excerpted from Corey Amaro's blog Tongue-in-Cheek, Jun 2008, Part 1 & Part 2
See also Patricia M. Walsh: "Portuguese Festa: 99 years of pageantry, family tradition: Older generations try to engage youth in rich history," San Diego, California, Peninsula Beacon, 27 May 2009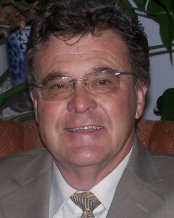 Manuel Homem: A native of the famous wine-growing town of Biscoitos in the northwest quadrant of the island of Terceira, Manuel has known Vasco Pereira da Costa since their childhoods in the Azores, as their fathers were friends there. Like Vasco, Manuel attended Angra do Heroísmo, Terceira's, respected Liceu Nacional. Then he journeyed from the Azores to the United States on a student visa in order to attend San Jose City College and Hayward State University in California. While employed by a transportation company for many years, he completed his Bachelor's degree in Business Administration at the University of Phoenix and also received a diploma in Transportation Administration from Golden Gate University. In the late 1980s and the 1990s he was very active in the Portuguese-Californian community, with much of his spare time devoted to volunteering with San Jose's Portuguese Athletic Club. In 1989 he helped reorganize Boxer's Mayfair Village, a senior apartment community in San Jose with a population of about 600 residents; he then took over the company as property manager in 1993. Manuel is now enjoying a well-earned early retirement with his family.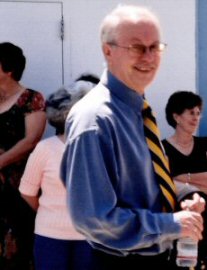 Álamo Oliveira: One of the Azores' most acclaimed and prolific living writers and leading cultural figures, Álamo was born in the village of Raminho on Terceira. He studied Philosophy at the Angra do Heroísmo Seminary and served in the Portuguese army in Guinea-Bissau. Although the rest of his immediate family immigrated to California, Álamo remained in the Azores, where he pursued a distinguished government career in addition to being a novelist, poet, playwright, lyricist, essayist, public speaker, painter and founder-director of Angra do Heroísmo's leading theater company, the Alpendre Theater. He is coordinator of the twice-yearly journal andarILHAgem, launched by the Azores' Directorate of Communities in 2007. In Spring 2002 Álamo became the first Portuguese writer-in-residence at the University of California-Berkeley. Other honors include the Prémio de Teatro Almeida Garrett for his play A solidão da casa do regalo and the Maré Viva prize for his novel Até hoje (memórias de cão). He is one of three major Azorean writers profiled in the 2005 Portuguese documentary Aventuras do Espirito, which includes a biographical sketch and commentaries by the author, as well as Álamo reading from one of his short-stories. Various writings of Álamo's have been translated into English, French, Spanish, Croatian and Japanese. His literary output includes two anthologies, three books of essays, six books of fiction, 11 plays and 13 books of poetry. His 1999 novel Já não gosto de chocolates – from which I No Longer Like Chocolates was translated by Diniz Borges and Katharine F. Baker – has been taught in North American university courses in Modern Portuguese Fiction and Portuguese Island Culture; in 2008, Random House Kodansha published Kiwamu Hamaoka's Japanese translation of the work.
– Excerpted from I No Longer Like Chocolates website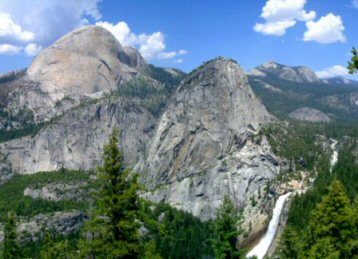 Yosemite National Park: It is by far the grandest of all the special temples of Nature I was ever permitted to enter. – John Muir. I have seen persons of emotional temperament stand with tearful eyes, spellbound and dumb with awe, as they got their first view of the Valley from Inspiration Point, overwhelmed in the sudden presence of the unspeakable, stupendous grandeur. – Galen Clark, guardian of the Yosemite.
Glaciation 1.2 million years ago filled Yosemite Valley to the brim and excavated the valley. This glacier advanced down the deep, narrow canyons created by the rivers. In the Valley, glacial ice traveling through was thousands of feet deep. Half Dome projected 900 feet above the ice, but many peaks to the north were engulfed. The grinding, gouging action of the heavy river of ice eroded the canyons and valleys, and widened and deepened them into U-shaped troughs. A system of joints and cracks in the granite allowed the glacier to erode out great blocks of granite at vulnerable points and carry them away. In other areas the glacier merely scraped, buffed, and polished the granite surface. Later glaciations did not fill the valley as much as this early glacier; spires were formed by weathering processes over the past million years. The last period of glaciation in Yosemite Valley began 30,000 years ago and ended about 10,000 years ago.
The Ahwahneechee people lived here for generations: seven present-day tribes descend from the people who first called this area home. As Europeans arrived in the mid-1800s, violent disruption ensued that displaced the native populations. Early white settlers arrived and hosted writers, artists, and photographers who spread the fame of "the Incomparable Valley" throughout the world. Within Yosemite's history, various cultures abounded that left a mark. Historic mining sites remain from miners who came to the Sierra to seek their fortune in gold. Early lodging establishments, like the Wawona Hotel, offered a more primitive setting for the Valley's first tourists and today's visitors, and more elegant lodging, like The Ahwahnee, was added to satisfy those looking for comfort. History books detail the Mariposa Battalion entering Yosemite Valley in 1851 to remove the Ahwahneechee. As Euro-American settlement occurred, people arrived on foot, on horseback and by rail to rustic hotels. Parts of the landscape were exploited, spurring conservationists to appeal for protections. President Abraham Lincoln signed an 1864 bill granting Yosemite Valley and the Mariposa Grove to the State of California. John Muir helped spark the creation of Yosemite National Park in 1890.
– Excerpted from Yosemite National Park website